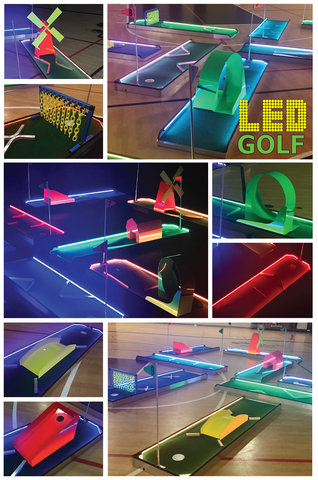 3 Hole - LED Cosmic Mini Golf - Portable Cosmic Mini Golf
Actual Size: 12 X 12
Age Group: Mini golf is fun for all ages from 3 years old through adult and can be played with a mixture of ages. Great for events of all ages
Attendants: Customer is responsible to have 1 attendant watching the mini golf at all times while in use. (attendant not provided)




3 - Hole L.E.D Cosmic Mini Golf - (golf holes and obstacles vary)

USA Inflatables now offers a portable LED Cosmic Mini Golf Course - now with an LED system that can last up to 65 hours! Using the included remote, you can change the color and mode to best fit your event! Countless hours have gone into finding the best LED kits that will work well in a mobile mini golf environment.
Benefits include:
LED system mounted to our proven mobile aluminum golf course.
Easily switch colors and modes with included remote. Great for customizing events (ie: School Colors or Holidays)
Battery lasts up to 65 hours depending on color and mode used. (based on our in-house testing)
Water proof LED's strips. Battery and controller (not waterproof) are mounted underneath to help protect from rain.
Durable! Will with stand walking on the course or the edges!- Industrial strength, weatherproof, unstainable carpet
Course sets up easily in 10 - 15 minutes!- Customizable design
Rock solid durability. Will with-stand walking on the course or the edges!
Can customize any number of glow golf holes to fill a black-lit room.
Includes putters, balls, flags
3 Hole Course comes with 1 powder coated obstacles.