Frequently Asked Questions
Have a question you'd like answered? Let us know!
Below you will find answers to the most commonly asked questions. How long is the rental, Whats included, cancellation policy, what surface do we set up on, How many kids can fit in the inflatable, Are the inflatables clean and many many more.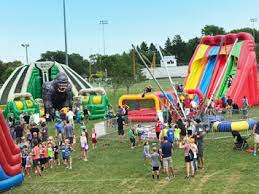 Why Should I choose USA Inflatables?

USA Inflatables is the Leading provider of Interactive Events and inflatables to large and small events and festivals in the Greater Minneapolis St Paul area. Some of our annual events include large city festivals, school carnivals, church festivals and the Minnesota State Fair. We also perform at several company picnics, and thousands of back yard parties. The reason these events come back to USA Inflatables year after year is because they know that USA Inflatables provides the highest quality, safest inflatables, largest selection of innovative party rental equipment, quality on-time deliveries and clean courteous staff members that treat your customers with respect. USA Inflatables also provides interactive equipment to several cities and festivals through out-state Minnesota, Iowa and Wisconsin.

Make your next event memorable: Call 510-488-6200 today!