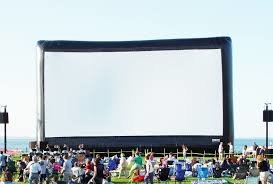 Movie Screen Complete Set Up W/ Technician 25 X 15
Product Description
The "Platinum'" is the clydesdale horse of inflatable movie screens. Sure, most people don't NEED a 25×15 inflatable movie screen, but most people don't need cheesecake or pizza either, but what would the world be like without them?

Just to explain to you how large a 25×15 foot screen really is… with those screen dimensions you will be viewing movies and shows on a screen that is 29 feet 2 inches in diameter, or in other words, the same distance as the height of a small three story house.
When we're talking about what you can do with the "Platinum" there really isn't much that isn't on the proverbial table. Provided you have a large enough backyard you can use it for backyard birthday parties, anniversaries, weddings, dive in movies or even just a totally awesome weekend movie party.
When not penned in by four walls is when the true glory of the "Platinum" starts to shine. This screen is large enough to entertain up to 1000 people at all sorts of events and gatherings such as block parties, neighborhood parties, school nights, fundraisers, HOA's, weddings, anniversaries, concerts, performances, apartment movie nights, business presentations, Parks and Recreation movies nights, summer camps, colleges, universities, private schools, public schools and charter schools and so much more. While we won't claim the screen can be seen from the moon, it's certainly a possibility it could be seen from low earth orbit… right?
Plus we keep a technician at the event to assure a flawless event (upto 4 hours)

The Ultimate control console can play it all: movie downloads, Blu-ray Disc, DVD, slide shows, streaming media and more. Ultimate packages maximize flexibility and convenience with movie playback in every major format: electronic media, Blu-ray Disc and DVD. Imagine every possibility of having a 13″ MacBook Air laptop integrated with rack mounted audio, power conditioning and a Blu-ray Disc player.