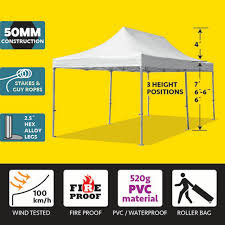 10' x 20' Pop Up Party Tent
Actual Size: 10' X 20' X 11'
Setup Area: Must be on a flat surface (grass is preferred). 3 feet of clearance around the perimeter of the unit with 6 feet of clearance by entrance, exit and overhead lines. Sand Bags are required for set ups where staking is not an option.




The 50mm Speedy Pop-up Party Tents features 50MM construction that is strong yet lightweight and durable, wind tested to speeds of 100 KM (60 mph). These professional, high-quality canopy tents were engineered specifically for fast setup and teardown without the need for a lot of additional parts. The tent frame expands outward for setup and contracts inward for teardown, making preparations for your next outdoor event a snap.
Seating Capacity
16 people for sit down dinners
20 for buffet style dinners
35 for stand up, cocktail style parties
ALL TENTS MUST BE STAKED - WE WILL NOT SET-UP ON A SURFACE WHERE WE CAN'T STAKE TO SECURE THE TENT - NO EXCEPTIONS